Reuse of composite material and recovery of secondary raw materials with higher value than currently available
Holistic intelligent approach
Aiming to increase quality by 15% and quantity by 25% of disassemble and separate composite materials
Optimized sorting procedures combining optical techniques (HSI and LIBS) with AI and ML methodologies
Sequel of characterisation routes for the parts to reuse, resulted from 5 recycling technologies and assisted through modelling activities
5 demonstrators will be defined, constructed, and validated to provide tangible results for composites reuse in real environment.
Reduction of waste sent to landfill and positive environmental impact
Examination of end-of-life composite materials for direct reuse
Implementation of comprehensive LCA of the materials and processes involved with the aim to close loops
Maximizing the utilization of circularity potential will support materials' life-cycle positive environmental footprint across value chains (by 15%)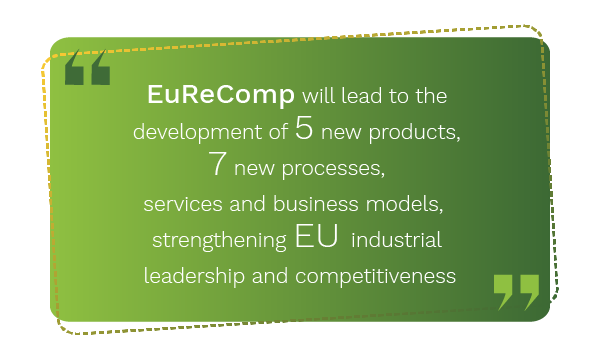 Creation of new value streams through new technologies with potential for commercial exploitation; new business opportunities & revenue flows for recycling companies, benefiting particularly SMEs
Optimization of novel solvolysis technologies aiming a fast industrialization
Evaluation of the potential of plasma-assisted technique to be used in industrial applications
Job creation, skill development and revenues flows will emerge in SME of the following domains: logistics, blockchain (track and trace) and waste management, legislation services, recycling, collecting/dismantling/sorting, qualification
Increased uptake of novel composites materials in industrial applications currently limited due to costs and adherence by industry to environmental legislation and the End-of-Life directive.
In the framework of EuReComp, the environmental benefits of recycling will be assessed in comparison with other EoL treatments
Industrial application cases could apply in Naval and Automotive Manufacturing sectors (from turbine blade to boat and construction, leisure, sports, mould manufacturing, from airplane craft to automotive part, from fuel tank to automotive shaft).
Solvolysis will focus on developing the method that will allow the polymer matrix (resins) from real samples coming from wind turbine blades, aiming to provided a much-needed boost to the sustainability of the energy industry.